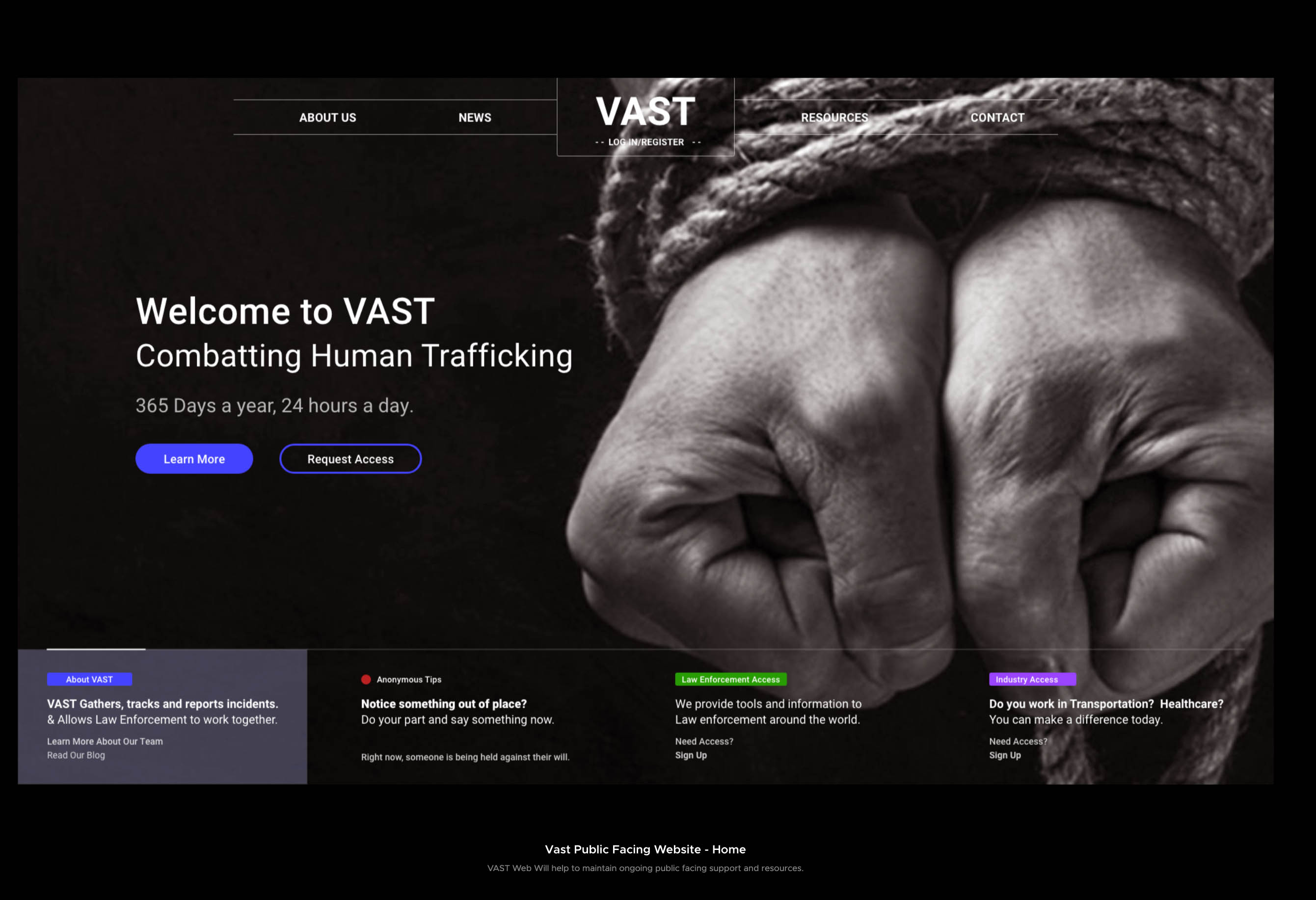 Client

Independent/Proposed Solution

Year

2019

Role

Project Manager / Product Designer / IA

Status

In Stasis
Project Overview
SharpSwitch and the Intoku Group's goal is to partner with the law enforcement community through collaboration technology support by aiding in the identification and protection of victims through our Victim Assistance Search Tools (VAST) Web Suite that will synchronize and enable information sharing and prompt collaboration across federal, state, tribal, and local law enforcement with the end game of helping remove victims from the grasp of criminal enterprises and help with the prosecution of human traffickers nationwide and internationally.
Hands on
Project Management
Product Design
Interface Wires, Design and Iterations
Admin Interface Design & Information Architecture
Public Facing Website Design
Marketing/Informational Website Design and Development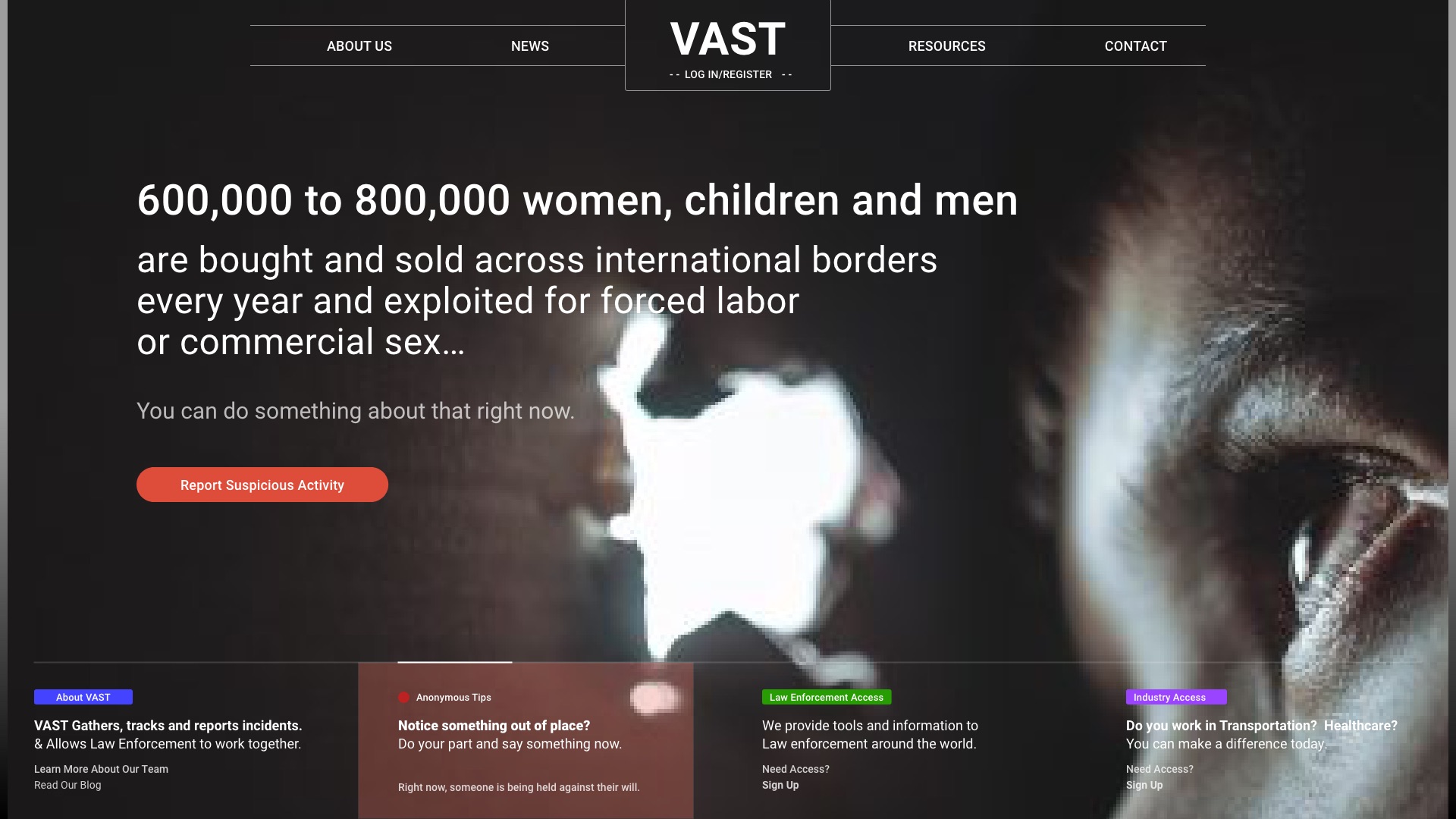 Opportunity / Goals / Solutions
OHuman trafficking is a global problem
GCreate a suite of tools that will help aid in the identification, prosecution and conviction of people involved with human trafficking.
SPublic facing web portal for victims, law enforcement and the general public to reach out for help, submit tips and join the fight against human trafficking.
Administrative back end to help build cases, share information, and prosecute those involved.
Research/Analysis
Many .orgs support, donate, and help victims after the fact. The aim of VAST was to increase convictions.
World Vision, IJM and Thorn help to educate. Child Welfare does not address the impact and severity of this global problem. Dea.gov, DHS, FBI, ICE are only informational and extremely cold.
There are a lot of resources out there, but there are currently no tools to help assist in the exposure and conviction of human traffickers.
Implementation
In order to gain empathy, I started by extensively researching quantitatively, and qualitatively. I interviewed lead human trafficking task force investigators in order to understand the pain points of their current system. I learned so much about how deep this Wicked problem truly is. It lit a fire inside me and I rose up to help the fight with passion and fervor.
Helped to define the technology needs and possible avenues for execution. Continuous monitoring, alerting, notifications, social media, LEO data pulls, administrative data sharing, lead generation and distribution, Ai modeling and predictive real time mapping/tracking of trafficking routes, interstate nexus (linking victims, criminals, reports and events), case connection nodes and links, transportation scheduling and monitoring integration. Deep financial transaction analysis +more
Modeled and mapped detailed information integration collection and distribution system with a focus on a globally available database structure.
After months of research and interviews I began to generate work flows and models for three different entry points: Victims, Law Enforcement and service industry employees. This would lead me to establish a functional, connected, administrative network model and initial VAST mobile app lo-fi wire frames. I created a brand, tone and mood for a public facing marketing site as well as a pitch deck to help us educate, inform and invite support.
Validation/Feedback
The VAST concept was well received by State and local officials during meetings. Interviews with task force officers, airline attendants and non-profits proved to be well received. Finding and securing funding proved to be a bit more difficult.
Conclusion/Reflection
Big solutions to big problems are so incredibly complex. When a product has been well researched, planned and designed around so many different players in the game with so many moving parts I realized that without a larger team in place the product couldn't move forward.
VAST emerged out of small conversation one day over coffee, our small team diligently worked on this project in our spare time with hopes that it would garner a larger support network over time, however, it did not. The sheer amount of energy, networking, financial support and business development needed to really bring this product to life was beyond us. We took it as far as we could before deciding to shelve it.
I still believe in this product and perhaps one day it will be picked back up again and seen through to completion.
Forward →
Get to know me
To About